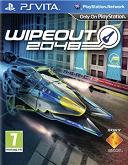 Wipeout 2048 on PS Vita not only lets you race on the go, but introduces great controls and cross-play features for fans and newcomers to the series.
I don't know what it is about my group of friends but most of the girls seem to go for Microsoft or Nintendo consoles rather than Sony. Never being one to conform I've recently invested in a PlayStation Vita and I have to say I'm more than a little smug when I compare it to the 3DS.
My favourite trick is to pull out Wipeout 2048 while one of my friends is playing Mario Kart, there really is no comparison. The graphics and sounds on the Vita really impress even next to the more recent 3DS version.
If you've not rented a Wipeout game before, this is essentially racing without the wheels — but with plenty of boosts, missiles, machine guns and lasers to compensate. It is the sort of rental that takes a while to get used to, and I have to admit that my first few hours were spent bouncing into the sides of the track. However, perseverance really pays off and you soon find yourself instinctively using airbrakes to hang the back of the ship out around corners and hugging each apex.
Wipeout 2048 takes place in the future but earlier than other games in the series. This places it at the moment when anti-gravity racing was just emerging in the Wipeout universe. This means that the tracks are around cityscapes as opposed to the purpose built arenas of later games.
A happy coincidence for newcomers to the series is that this setting has led to the tracks being much wider. There are still narrow sections to test your air-brake skills, but generally there is more room to manoeuvre than in previous games.
What I hadn't expected though was how good a rental game Wipeout 2048 Vita was for younger players. My four year old little brother often struggles to join in with some of the games I play. He has been enjoying the tilt controls on Mario Kart 3DS recently that got around his difficulties with the Circle- or D-pad controls.
After a bit of fiddling around in the settings for Wipeout on the PS Vita I found a Steering Assist option and Tilt Control setting that made the game easier for him to play — more so than even Mario Kart.
The steering assist helps keep the player on the track (and facing the right direction) even when they misjudge a corner. This combines with the tilt controls to make this one of the most accessible driving games for very young players — as far as I can tell anyway.
Although I think my friends are still to be convinced they were more than happy to play some link-up Wipeout between the Vita and PlayStation 3. This uses Wipeout HD on the PS3 as the host and lets you join the game from your Vita. A bunch of you can play using SixAxis/Dual Shock controllers on the PS3 while others use the handheld.
Even beyond these new features, Wipeout 2048 is still a very challenging and tight racing game. The controls are a little more responsive on the PS Vita's diminutive dual sticks. I also found I had to tone down my old tactic of air braking round corners at the last minute.
The general feel is of a more refined experience that goes easier on the newcomer while retaining the depth of play that fans of the series have enjoyed over the years.
It's impressive that Sony, who isn't known for being a family focused games developer, have actually done this sort of thing before Nintendo. Some of my friends did suggest that the Wii U would do this sort of stuff better, but with that console still a good few months away I'm happy to stick with Sony.
If you are a Wipeout fan than the Vita and Wipeout 2048 is a must buy. Some might suggest that there isn't all that much new content here, but the novelty of playing on the go is more than enough for me. If you haven't played a Wipeout game before then this really is a good place to start.
Score: 8/10 A fast paced racing game that works as well for novice racers as it does for experts.
Wipeout 2048 is available to rent or buy from Boomerang on the PS Vita!

If you're looking to rent, our packages start from just £3.99 a month! And you can now become a Priority Member from as little as £10.99 a month! Why not try our 21 day free trial? Click here to join now!  
Want to reserve your own copy? Click here to order at a great price and free P&P! We also sell ex-rental copies in 'as new' condition complete with brand new box & manual!