Fire Emblem Radiant Dawn
Nintendo WII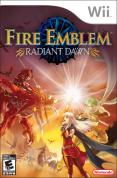 Fight the power! That is the mantra of the Dawn Brigade as they battle to free their homeland from the tyranny of an evil empire in Fire Emblem: Radiant Dawn, the latest in the long-running Fire Emblem strategy-RPG series.

Three years have passed since the last Fire Emblem adventure, when the kingdom of Daein invaded neighbouring Crimea and sparked a war that nearly consumed the continent of Tellius. Crimea held off the invasion, crowned the late king's daughter as their queen and rebuilt their beleaguered nation. However, Daein came under the tyrannical rule of the powerful Begnion Empire. Now, to break free from the grip of Begnion oppression, a handful of young revolutionaries - the Dawn Brigade - has banded together to save the lives of their countrymen.

Like the other games in the Fire Emblem series, Fire Emblem: Radiant Dawn is a deep, tactical strategy game that boasts role-playing elements. Through strategic movements, effective items/weapons use and a little luck, players will need to defeat the opposing army on a map. Every time a unit of yours defeats an enemy unit, that unit receives experience points and becomes more powerful. Your army of rebels consists of dozens of unique characters, including knights, thieves, archers and warriors. These characters can rise to become legendary heroes, but if you're not careful, they could perish in battle, never to be heard from again.

To command your troops, you can use the Wii Remote or Classic Controller. With the Wii Remote, you'll simply hold it sideways (in the NES configuration), using the Control Pad to move the on-screen cursor and the 1 and 2 Buttons to confirm actions. Holding the B Button, you can also change the angle of the battle map, giving you a chance to view the battlefield from all angles.
Buy Fire Emblem Radiant Dawn on Nintendo WII
Reviews





An incredibly deep, involving and punishing tactical RPG with a huge cast of characters. The game has a really helpful tutorial system built in to allow beginners to get to grips with all of the elements and tactical considerations they need to survive. A challenging and rewarding game that needs a good amount of time to really get the most out of it.