Portal 2
XBOX360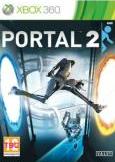 Portal 2 draws from the award-winning formula of innovative gameplay, story, and music that earned the original Portal over 70 industry accolades and created a cult following.

The single-player portion of Portal 2 introduces a cast of dynamic new characters, a host of fresh puzzle elements, and a much larger set of devious test chambers. Players will explore never-before-seen areas of the Aperture Science Labs and be reunited with GLaDOS, the occasionally murderous computer companion who guided them through the original game.

The game's two-player cooperative mode features its own entirely separate campaign with a unique story, test chambers, and two new player characters. This new mode forces players to reconsider everything they thought they knew about portals. Success will require them to not just act cooperatively, but to think cooperatively.
Buy Portal 2 on XBOX360
Reviews





I love playing puzzle games but this one was just to boring for me I give it 8/10





Brain straining but never truly frustrating and by adding co-op, Portal 2 manages to build upon and surpass the original in every way possible.





I Love this game, I recommend you play online coop with a friend, its alot of mind hurting puzzle fun. 1 players great also.





Incredible puzzles stitched together with glados and wheatley's incredible dialogue, 9/10





I found this game a little dull to be honest, but a decent game nonetheless. The unique co-op story with online and splitscreen capabilities make this game worth a look, though.





good game not only is it funny but it will make you think. only problem is it has little re playability





Good game. Fun puzzles and good voice acting (love Stephen Merchant's voice acting). Gets repetitive though and the game seems to drag on towards the end. Still well worth a rental though.





One of the few Xbox 360 or PS3 games I have liked for the last couple of years. Good puzzle game with good voice acting. For once a modern game that not about shooting stuff.





Amazing game, far too short though...





Fantastic game, Unable to play the co-op but planning to re-rent when a mate also gets the game. Didn't play the first Portal, it doesn't matter. Although frustrating as hell sometimes, this game makes you feel like a genius. Game of the year.