Yakuza 0
PS4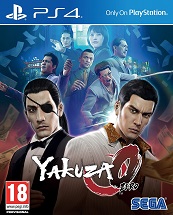 The glitz, glamour, and unbridled decadence of the 80s are back in Yakuza 0. A prequel to the long-running series set in Japan's criminal underworld, this entry introduces mainstay protagonist Kazuma Kiryu and series regular Goro Majima as they fight like hell through Tokyo and Osaka in their climb through the yakuza ranks. Along the way, players can interact with all the vices 1988's Japan had to offer: from discos and hostess clubs to classic SEGA arcades, there are tons of distractions to pursue in the richly detailed, neon-lit world.
At its heart, Yakuza 0 is a classic 3D brawler, where players roaming the streets of Tokyo or Osaka will encounter all manners of goons, thugs, hoodlums, and lowlifes to beat up. Featuring an engaging combat system allowing players to switch between 3 different fighting styles instantaneously, Yakuza 0 gives players fluid, free-flowing fights that are easily learned and a joy to master. Take combat up a notch by using environmental objects such as bicycles, sign posts, and car doors for bone-crunching combos and savage take-downs.
Buy Yakuza 0 on PS4
Reviews





Very good game





Fantastic game, i played Yakuza Kiwami first so this was a good look back at Kiryu and Majima





If you love anime-isque story lines, humour and over the top action, this is the game for you :D





An amazing game with good Fight mechanics and an awesome origin story line. Long cut scenes but that is what Yakuza is all about. Highly recommend this for people who want to play a game that is not about online or your standard FPS.





Just sublime. Possibly one of the games of the year





Just sublime. Possibly one of the games of the year





One of the most mental playing experiences available, has to be played to be believed, and a great jumping on point for anyone unfamiliar with the rather convoluted narrative of the previous Yakuza games.





Great game, very involving, probably too big for a rental





Fantastic game, has made me a fan of the series





This is quite possibly my game of 2017. Its so easy to lose yourself in hosting clubs, playing at the arcade and watching erotic videos.