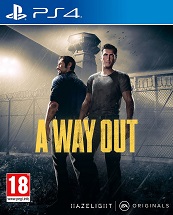 Rent A Way Out on PS4





RENT IT
Released: 23 Mar 2018
Genre: Action / Adventure

A Way Out is a couch or online co-op only game where you play the role of one of two prisoners in a daring escape from a maximum-security penitentiary. What begins as a thrilling escape quickly turns into an emotional adventure unlike anything seen & played before. A Way Out is a two-player experience. Each player controls one of the main character, working together to escape the prison and continue beyond into each character's lives. It is a game that explores the notion of trust, betrayal and facing up to the consequences of your decisions.
Leave a review


Great game, was looking for a multiplayer game to play to pass the time! Found this and never looked back, big twist at the end!! Would recommend!

Great concept, great graphics but gameplay could be slightly better although not awful. Story has too many cliches and scenes ripped out of popular movies. Would like to see a higher budget sequel.

Great game should make more like this me and a friend played it and an added bonus only one needs the disc but a truly awesome game