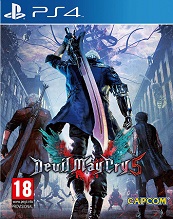 Rent Devil May Cry 5 on PS4





RENT IT
Released: 08 Mar 2019
Genre: Action / Adventure

A brand new entry in the legendary over-the-top action series comes to Xbox One, PlayStation 4 in Spring 2019, complete with its signature blend of high-octane stylized action and otherworldly and original characters the series is known for. Director Hideaki Itsuno and the core team have reunited to create the most over the top, technically advanced, utterly insane action experience of this generation. Years have passed since the legions of hell have set foot in this world, but now a new demonic invasion has begun, and humanity's last hope will rest in the hands of three lone demon hunters, each offering a radically different play style. United by fate and a thirst for vengeance, these demon hunters will have to face their demons if they hope to survive.
Leave a review


Great Game, Excellent Edition to the Series.

Brilliant addition to the franchise, i was skeptical at first with the Nero gameplay but it blows wide open a few chapters in and becomes really enjoyable. I would of played through this again if it wasnt a rental!

Excellent