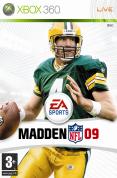 Rent Madden NFL 09 on XBOX360





RENT IT
Released: 15 Aug 2008
Genre: Sport

Celebrating 20 Years of Innovation and counting, Madden NFL 09 delivers its most complete NFL football package ever. Whether you're a seasoned veteran or picking up the game for the first time, players of all skill levels will enjoy a unique, yet challenging experience with the innovative Adaptive Difficulty Engine, which tailors the game to match your playing style. Instantly improve your game with the all-new virtual Training Centre or incorporate feedback with EA Sports BackTrack, allowing you to learn from your mistakes on the fly. With a new broadcast presentation and online leagues, plus more than 85 new features and enhancements, Madden NFL 09 is the most authentic and adaptable game in sports videogame history.
Leave a review


Worth a rent if youve tried any of the madden games or nfl games before. If your a first timer for nfl games, its a bit tricky learning to rules of the game. But the training part of the game teaches you the basics. Otherwise its a good game to try. Not worth buying unless ur …
See full review


Very little change from 07 & 08, worth a rent as superstar mode is decent, but again lacking alot of features that are on the ps2 version...