CSI Crime Scene Investigation Hard Evidence
XBOX360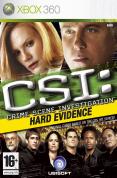 Find and interpret the evidence. Solve the crime: Take a journey inside the criminal mind and find out if you have what it takes to be a member of the Las Vegas Police Department's elite Crime Scene Investigation unit. Work alongside CSI agents Gil Grissom, Catherine Willows, Warrick Brown, Sara Sidle, Nick Stokes, Coroner Al Robbins and Detective Jim Brass in 5 distinctive cases. Solve baffling crimes. Collect and analyze evidences using real-world forensic equipment and cutting edge investigative techniques. Evidence is hard to find, suspects lie unless proof is found.
Buy CSI Crime Scene Investigation Hard Evidence on XBOX360
Reviews





Great game keeps in touch with the show. A real hit if you like stragedy/puzzle games





CSI is basically a mildly interesting diversion for fans of detective games, or for fans of the series. The game lasts about 10 hours overall, 2 hours per case, and is a very easy affair. Every clue is relevant to the case, every witness has something important to say, and you'll finish each case with no problems whatsoever. I found it slightly amusing how quickly each case wrapped up, too. You suddenly get an arrest warrant, and that's it, it's all over! I can recommend this game if you want a quick 1000 points, or if you love CSI. If you're a point and click fan, this really won't match any of the great P&C titles from the PC, but it's just about worth a rent.





Quite an interesting game and certainly a little different to anything else out there. Easy on achievements too, and completable in around 8 hours. Unfortuately is very repetitive.