Hasbro Family Game Night Vol 2
Nintendo WII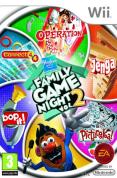 All the excitement of a prime-time TV game show in your very own living room! With Mr. Potato Head as your host, you are guaranteed to have a thrilling night of family-friendly fun. Hasbro Family Game Night: Vol. 2 lets up to four players become contestants with a wide variety of fun and engaging party games. Win and collect parts for the coveted Golden Potato to become the ultimate game show champion!
Buy Hasbro Family Game Night Vol 2 on Nintendo WII
Reviews





An excellent fun game to play if you have friends around! Could imagine it would get quite boring in single player, though. Good graphics, and good value having a variety of games to play on one disc. Loved Pictureka and Operation in particular!