Alan Wake XBOX360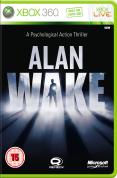 Reviews





The game was great to play from start to finish I give it 10/10. But the DLC is a joke, just not worth the microsoft points they charge you for around 20mins if that of DLC addons.





Really nice game, great story etc A+, but the dlc is not worth buying, cost to much for what you get extra...D+





Really fun with a great atmosphere.





Really great game this, something a bit different from the usual. It adds a few twists alongside the usual gaming conventions and other than a few minor flaws well worth a rental!





Probably one of the best games I have ever played. I advise you to rent this. Great Long Storyline, Great scenery WHAT A GAME!!!!!!!!!!!





very weird game but very entertaining





Absolute epic, if you have not played this, your missing out.





Fantastic storyline, very immersive, stunning graphics. Gameplay a bit linear and on the easy side, also VERY short.





Absolutely loved this game. Great balance of suspence, horror and action with a compelling story. Approx 7-8 hour game that had me so gripped that I completed it in 2 sittings. Highly recommended.





Great story, rather different from the usual games out there, so it was a nice surprise. Top notch story writing, as expected from Sam Lake, the writer of the Max Payne games. Looking forward to the next Remedy made game.