Alice Madness Returns XBOX360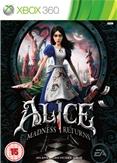 Eleven years ago a horrific fire took Alice's family from her and left her mind horrifically scarred. Afterwards she was confined to Rutledge Asylum, where she struggled to confront her demons by slipping further into her fantasy world of Wonderland. Now, after ten years, she has finally secured her release-yet she still bears the heavy psychological burden of that tragic event.

With her mind in tatters, she is unable to resolve the fear prompted by her strange memories, dreams, and visions. Perhaps she'll do better in Wonderland. She always has. She travels there, seeking what the "real" world can't provide: security, knowledge, and the truth about the past. But in her absence, Wonderland too has suffered. Something has gone horribly wrong, and now a great evil is descending upon what once was her beautiful refuge. Can Alice save Wonderland-and herself-from the madness that consumes them both?

Visit Alice's dark and shattered wonderland

Alice: Madness Returns delves deep into the dark and violent side of the imagination, creating a nightmarish Wonderland where Alice must face the demons that haunt her visions. Visit the grim reality of Victorian London and then travel to the beautiful yet ghastly Wonderland to uncover the root of Alice's madness and discover the truth behind a deadly secret, kept hidden for years.
Rent Alice Madness Returns on XBOX360

Buy ex-rental and earn 12 points
Reviews





Really quirky, love the silent hill feel to it.





Love the style. This is a game that is very quirky and as a result feels very fresh when playing through it. the only downside is that the actually main gameplay mechanics do actually get a little repetitive a few hours in, what kept me going was looking forard to the art style in the next level. Worth checking out.





Probably one of the best games I have played in a while, imaginative and fun to play. Would have given it 10/10 but in true EA style they make you pay for DLC that is normally redeemable when buying the game new. However it's still worth the 800 msp





Great game, a little bit bugging but nothing to serious. 10/10! Not recommended for kids! Great horror game and fans of the first one should play it!