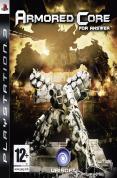 Rent Armored Core For Answer on PS3





RENT IT
Released: 28 Nov 2008
Genre: Shooter

Massive development and aerial pollution have been harming the planet. People recognise how little time is left until the end of the world. Thanks to their massive amount of military strength, The League corporations are in control of the planet's infrastructure and their people are living in the air to avoid the contamination. The ORCA, forced to live on the surface of the polluted planet, organised the resistance and have amassed a formidable arsenal. As a mercenary armed with cutting edge military robot technology, choose your side and defeat the other factions by taking on giant mechanical weapons.
Leave a review


this was an amazing fun game and should be tried out sa.

Great game to rent sa.

Great game and definetly should be tried out. One of the best games i have played on ps3.