Army Of Two The 40th Day (Army of 2 The 40th Day) XBOX360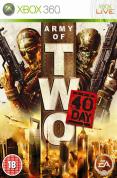 When a man-made disaster of epic proportions strikes Shanghai, China, Rios and Salem find themselves right in the middle of it all. Fortunately for you, you've got a bigger playbook of features and a new arsenal of co-op moves that either player can perform at any time, opening up fresh strategies and choices for both players. You've also got the tools you need to help the Army Of Two fight and prevail with an incredibly deep, advanced weapon customisation and upgrade system. The game's multiplayer has also been rebuilt from the ground up using proven client-server technology for the best experience possible. The Army Of Two is back and better than ever!
Rent Army Of Two The 40th Day (Army of 2 The 40th Day) on XBOX360

Buy ex-rental and earn 18 points
Reviews





fun game one for the friends list though the ai is really dumb for the most part if you play through with a friend that game gets much more enjoyable





This game has a slow start, and on first impression, I wasn't too impressed. As the game goes on though, I really started to get into it, and the missions became more tactical. It is particularly more fun on Co-Op, which gives more of the partnership effect. The multi-player is great fun, and you can play through as your campaign team. Give it a chance, and you will find this game very entertaining.





Fairly fun coop game. Controls are a little niggly but you get used to them easily enough. Game is also surprisingly long. However after the 4th level the game gets alot harder I found and sapped any fun the game had out. Shame, as there's a lot of promise.





much better then first expected and great co-op fun but can be glichy at times





not a bad game completed in 7hrs so nt very long, but the weapon customization is interesting, nt as good as the first 1 bt still good overall 6/10





I enjoyed the first game a lot with a friend in co-op and we enjoyed the sequel too. The new features were ok but didn't really add much to the game and the level designs were maybe not as interesting as the first. Certainly worth a rental but nothing ground breaking here.





Very good game, excellent controls and good action parts, story is a bit naff but that doesnt degrade from the game. Well worth a rent





good game but short very good conrtols easy to play





Much better than the original Army of Two, well worth a rent as solo campaign to short to warrant buying the game.





Great game, loved the first one and this one is much better. Can't beat a bit of co-op with your mate.