Assassins Creed II (Assassins Creed 2) XBOX360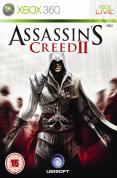 Truth is Written in Blood...

"I will seek vengeance upon those who have betrayed my family, and uncover a conspiracy bigger than I could have imagined. I am Ezio Auditore di Firenze. I am an Assassin."
Explore the beginning of modern history in an epic story of power, revenge, and conspiracy
Master the art of the assassin with over 20 new weapons and inventions created by Leonardo da Vinci
Experience open world gameplay with over 16 types of mission
Rent Assassins Creed II (Assassins Creed 2) on XBOX360

Buy ex-rental and earn 18 points
Reviews





Having played and fully enjoyed number one this was a fantastic step forward. It takes all elements of the first game and adds so much more. The only con I would say is that the assassination scenes where you talk to your target were fairly weak.





Far to similar to the previous game. Felt bored almost instantly





This game wasn't really for me, the game is excellent in itself, a vast improvement from the first, but I just didn't like the story. Still a fantastic game.





Brilliant game, enjoyed it from start to finnish. Good also for getting your achievement score up as most of the achievements follow the story line.





If you liked the first one then you will definately like this one. If you hsvent played any of them then this is an excellent rent.





Good game, very enjoyable. Controls slightly frustrating at times but over all a great game. Well worth a try.





The game mechanics for free running and combat are the strong point of the game. Sadly the story didn't prove to be very gripping and the game quickly became repetitive. Definitely worth renting but I don't think I'd want to buy it.





A lot better than the first game with a lot more variety in the missions.





Great game. I got stuck on a bit and gave in, but will rent the game again in the future to finish it off. As I said great game :)





Great game, really liked it, may rent it again later to finish it off.