Batman Arkham Asylum XBOX360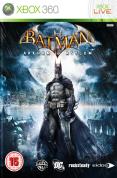 Batman: Arkham Asylum exposes players to a unique, dark and atmospheric adventure that takes them to the depths of Arkham Asylum - Gotham's psychiatric hospital for the criminally insane. Gamers will move in the shadows, instigate fear amongst their enemies and confront The Joker and Gotham City's most notorious villains who have taken over the asylum. Using a wide range of Batman's gadgets and abilities, players will become the invisible predator and attempt to foil The Joker's demented scheme.

Batman: Arkham Asylum features an original story penned exclusively for the game by famous Batman author and five-time Emmy award winner, Paul Dini, whose credits include Lost season one and Batman: The Animated Series. With amazing graphics and a moody, immersive setting, Batman: Arkham Asylum offers diverse gameplay options that push the envelope for all action, adventure and superhero games.
Rent Batman Arkham Asylum on XBOX360

Buy ex-rental and earn 18 points
Reviews





This game is excellent when you put effort into spending time on it, very large map but very enjoying, would deffinetly recommend this game to anyone.





Amazing game. Lots of gadgets and amazing moves! Wasn't a batman fan before I played this but it's definatly converted me.





One of the best games ever made.....cant wait for the sequel!





Dam good. If you like Batman you'll love this. If you don't then you'll still love it.





Loved this game, one of the best combat mechanics ever. Story and voice acting were great, and had fun going for all the collectibles, which I don't normally bother with but in this game they added something to the story. Only thing I'm not a fan of was the Challenge Modes, but they were fun for a short time.





Just awesome. I was expecting your usual movie-based affair despite all of the reviews and fanfare. Sometimes you enjoy a game most when you aren't expecting it! Every element of the game is masterfully produced, the combat, platforming, tactical & stealth gameplay. The voice acting is superb, as well as the visuals and sound effects. Absolutely deserves game of the year!





Superb. A respectful tribute to the Batman canon, beautifully executed in the Metroidvania style.





Excellent game, great storyline and a huge "secret" system which will keep you busy for hours. Combat mechanics are one of the best I've seen in a very long time.





Really enjoyed this game. The story is interesting and works well to link together a series of combat and stealth set pieces. The combat system especially is very well done. There are challenges outside the main story for both combat and stealth which add a lot of replay value to the game along with a variety of hidden items to recover etc. On occasion the set grapple points did seem a bit limiting (especially in the outdoor sections) but this is a very minor point.





akham asylum is a good beat 'em up, with enough story and variety to hold your interest to the end. There is a good free range with plenty to explore. The world of arkham is beautifully rendered and the controls are very responsive. The downside was the boss fights, especially the titan lunatics, who were perdictable. All and all a good game.