Big Brain Academy Nintendo WII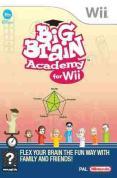 Are you a logical or analytical thinker? Are you good at memorizing objects? Put your skills to the test and flex your brain the fun way with the ultimate fast-paced multiplayer think-athon: Big Brain Academy for Wii. The follow up to Big Brain Academy for Nintendo DS, this Wii title contains all-new mini-games and multiplayer modes allowing you to challenge family and friends from the comfort of your living room!

The Wii Remote controller's hands-on control makes playing a cinch. This rethinking of the popular Nintendo DS game will test players' brains with fun problems and allow people of any age to play together. Multiplayer versus and co-op play modes have also been added, allowing players to use the title as a brain-training exercise... or a raucous party game!
Rent Big Brain Academy on Nintendo WII

Buy ex-rental and earn 12 points
Reviews





brilliant!!, even though this is obviously aimed at young kids, it's very addictive and fun!!!. the puzzles are great and on the more difficult levels really hard. my missus really likes it and will be gutted when i send it back!!