BioShock Infinite PS3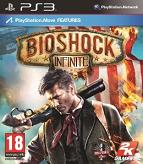 Welcome To Columbia
The year is 1912.
With the United States emerging as a world power, the floating City of Columbia is a mighty symbol of American ideals, launched with great fanfare to the cheers of a captivated public. But what begins as an endeavour of hope soon turns to disaster, as the city disappears into the clouds, its whereabouts unknown. The greatest accomplishment in American history has vanished without a trace.
The player assumes the role of former Pinkerton agent Booker DeWitt, sent to Columbia to rescue Elizabeth, a young woman imprisoned there since childhood. He will develop a relationship with Elizabeth, augmenting his abilities with hers so the pair may escape from a city that is literally falling from the sky. DeWitt will learn to fight foes in high-speed Sky-Line battles, engage in combat both indoors and amongst the clouds, and harness the power of dozens of new weapons and abilities.
Rent BioShock Infinite on PS3


Details:
Released: 26-03-2013
Rating Info: 18
Average Rating:







"As-New" Game

Buy ex-rental and earn 12 points
Reviews





basic shooter, cool storyline





This game is fantastic, best one upto now I give it 10/10





A good lengthy game. very enjoyable.





Great game. Hours of enjoyment. If you have enjoyed the previous games in the series you will love this one!





Repetative, but generally a good game





Cool graphics and really interesting story, however just was too repetitive. This was the second time i rented BI, but it just feels so much the same... preferred the first two installments





Great FPS that follows the style of previous Bioshock games allowing you to change and upgrade guns and Vigors (spells) on the fly in heated battles as you follow an engaging story that really comes together in the final act to leave you with one of the best endings this generation. Getting there is suitably enjoyable and the characters are interesting, although exploring for the optional dialogues and world flavour is a key part of enhancing the experience. Avoiding these would detract from the overall experience, so make sure you have a little time to wander about the world as you go. Only criticisms are the introduction of several Vigors and weapons in very quick succession at the end of the game, which may come too late to incorporate them into your gameplay (by the halfway point I pretty much had my weapons and Vigors fixed, only trying new ones for the skae of it), which also seems to hurry the plot along somewhat, although the ending is well worth it.





Great story, good gameplay, nice characters and easy platinum!





Awesome





Solid in terms of gameplay, similar to the other bioshock titles with one of the best story@s your ever likely to come across