BioShock Infinite XBOX360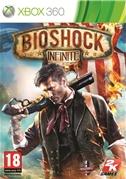 Welcome To Columbia
The year is 1912.
With the United States emerging as a world power, the floating City of Columbia is a mighty symbol of American ideals, launched with great fanfare to the cheers of a captivated public. But what begins as an endeavour of hope soon turns to disaster, as the city disappears into the clouds, its whereabouts unknown. The greatest accomplishment in American history has vanished without a trace.
The player assumes the role of former Pinkerton agent Booker DeWitt, sent to Columbia to rescue Elizabeth, a young woman imprisoned there since childhood. He will develop a relationship with Elizabeth, augmenting his abilities with hers so the pair may escape from a city that is literally falling from the sky. DeWitt will learn to fight foes in high-speed Sky-Line battles, engage in combat both indoors and amongst the clouds, and harness the power of dozens of new weapons and abilities.
Rent BioShock Infinite on XBOX360

Reviews





Love it!





Game of the Year for me!





I loved it. It was better than I expected





brilliant, the best of bioshock series, pity it was not longer





Thought this was promising, but the endless twists and tediousness just wore me down. Sent back unfinished.





The best campaign i have ever played in my life. It is better than any film i have seen, better than any game i have played and better than any book i have read. Truly outstanding. The game-play is exceptionally fun and is fully adjustable.





Such a fantastic game! Better off renting it rather than buying it. The campaign is solid. It keeps you busy by doing those extra things, may it be searching for those voxs and many other collectables. 9.8/10!





This the true successor to the original BioShock. Recommend to anyone who even remotely enjoyed their time in Rapture, Columbia offers outstanding arcutecher, spalling vistas and emasculate attention to detail. Focused far more on gun play and using a combat system closer to BioShocks duel wielding of powers and fire arms, BioShock Infinite can become very intense as you hang from hooks and zip around on skylines. Stick with it until the end for mind bending plot twists that blow the BioShock universe wide open and will leave you arguing the finer points with friends for months or even years to come. Truly epic.





This game is amazing very recommended it deserves a 5 Star