Bully Scholarship Edition Nintendo WII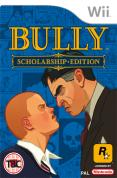 The Nintendo Wii version of Bully will retain the wit and deep gameplay of the previously released PlayStation2 computer entertainment system title and will boast additional new content. Bully: Scholarship Edition takes place in the fictional New England boarding school of Bullworth Academy, and tells the story of 15-year-old Jimmy Hopkins as he experiences the highs and lows of adjusting to a new school. Capturing the hilarity and awkwardness of adolescence perfectly, Bully: Scholarship Edition pulls the player into its cinematic and engrossing world.
Rent Bully Scholarship Edition on Nintendo WII

Buy ex-rental and earn 15 points
Reviews





excellent game, good fun has a good story line and kept kids quiet for hours





This was suprisingly a fairly good game. Rockstar games seem to have theis style of gaming down to a T. Would recommend a play on this one





One of the better wii games around at the moment, not much different from the PS2 version but a nicer feel to it due to the controls of the wii remote. Can get a little slow in parts but definitely one worth renting.