Bully Scholarship Edition XBOX360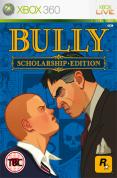 The Xbox 360 version of Bully will retain the wit and deep gameplay of the previously released PlayStation2 computer entertainment system title and will boast additional new content. Bully: Scholarship Edition takes place in the fictional New England boarding school of Bullworth Academy, and tells the story of 15-year-old Jimmy Hopkins as he experiences the highs and lows of adjusting to a new school. Capturing the hilarity and awkwardness of adolescence perfectly, Bully: Scholarship Edition pulls the player into its cinematic and engrossing world.
Rent Bully Scholarship Edition on XBOX360

Buy ex-rental and earn 18 points
Reviews





Have played this on ps2, Wii and now Xbox 360 and it's still brilliant Chievo's are fun and quite an easy 1000g





Nice game, like a smaller, easier version of GTA





Really enjoyable, would reccomend. 9/10





Pretty cool game! Basically... It's GTA with no guns, funny as hell tho. Good chevvy's too, only took me like a week to rip through it tho, deffo worth a rent 8/10





GREAT GAME. So much better than I expected. I had it on my list out of curiosity above anything else but once I had played it for half an hour I was hooked. Highly recommended!!





Great little game with enough to keep you amused for many hours. Very typically rockstar, with plenty of amusing quirks. Only downside is the frequency of loading screens (although they are never very long) and... the annoying as hell 'press left stick to look behind!' This has you flipping the camera so often when you're in a panic and need to escape the scene quickly. I'd allways assumed I would play the bully role in Bully, but you can play your way, I turned out to be a bit of a hero for the nerds in the end!





Another good game from Rockstar, good for gamerscore, i had bout 875G by the time i finished every thing.





This was an enjoyable game for the most part with a good humoured story and solid game play. Graphics and audio were fine but nothing spectacular. It's basically mission based sandbox game, which requires you to do a wide variety of tasks to make progress. Some of the missions were hilarious, from breaking an alcoholic teacher out of the Towns' Asylum, to stealing worn panties from the girls dorm for a perverted teacher. One of the downside to this game is the regularity of the loading screens. Every time you go in or out of a building, start a class, start a mission then they appear. They don't last a particularly long time, it's just so annoying and they really spoil the continuity of the game play. Overall it's a fun game and worth a rental. Nothing particularly difficult to acquire the 1000pts, but you'll need to put in the time, took me about 27-28hrs for 100% completion!





Really good game with nice size world to explore. Usual GTA/Rockstar comedy moments throughout and a nice warm up for the upcoming GTA game. Reccomend to anyone





Good game lots to do, have had some problems with screen freezes and the like.