Call of Duty 4 Modern Warfare XBOX360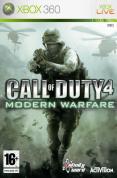 Call of Duty 4: Modern Warfare, the new action-thriller from the award-winning team at Infinity Ward, the creators of the Call of Duty series, delivers the most intense and cinematic action experience ever.

Armed with an arsenal of advanced and powerful modern day firepower, players are transported to treacherous hotspots around the globe to take on a rogue enemy group threatening the world. As both a U.S Marine and British S.A.S. soldier fighting through an unfolding story full of twists and turns, players use sophisticated technology, superior firepower and coordinated land and air strikes on a battlefield where speed, accuracy and communication are essential to victory.

The epic title also delivers an added depth of multiplayer action providing online fans an all-new community of persistence, addictive and customizable gameplay.
Rent Call of Duty 4 Modern Warfare on XBOX360

Buy ex-rental and earn 18 points
Reviews





Played this on the Vet level enjoyed it from start to finish I give it 10/10





They say war is hell. Infinity Ward's Call of Duty 4 Modern Warfare takes you to the very depths of Hades. The long awaited Call of Duty 4 Modern Warfare, IW's follow-up to the excellent Call of Duty 2, is a jarring, intense, and gripping take on war in the new millennia. The enemies are smarter, the weapons are deadlier, and the grenades all too plentiful. Call of Duty 4 Modern Warfare will shake loose your fillings and have you begging for more.





Its the best game ever





great game easy aim and play action





Fantastic game especially on Veteran difficulty even if you do get killed over and over and over again lol... very quick gamerscore with this game... a must for all fps fans





Quality game, gripping gameplay, stunning graphics. maybe a little too short though?





Game of the year





Brilliant war game. The multiplayer takes a while to get used to (it's usually who gets seen first dies first) but this is worth a rental just for the campaign alone. Brilliantly designed missions, good enemy AI make this the best single player FPS out right now.





Brilliant Game. Game of the year in my opinion no doubt. Greatest FPS ever!





Probably the best game i've ever played. RECCOMENDED *****