Call Of Duty Black Ops XBOX360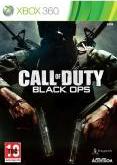 On November 9, 2010, the newest installment in the biggest action series of all-time and follow-up to last year's blockbuster Modern Warfare 2, Call of Duty: Black Ops, will insert players behind enemy lines during the most dangerous time period mankind has ever known.

Filled with heart-racing action, Call of Duty: Black Ops puts players in the boots of elite special forces units engaged in covert warfare, deniable operations, and explosive conflicts around the globe.
Rent Call Of Duty Black Ops on XBOX360

Buy ex-rental and earn 18 points
Reviews





i cant believe all the negative comments on this game, i thought it was brilliant! especially the zombies mode! theyve just brought out a new perk from moon in every map, so if you havent played it for a while, give is a go! :D





Good game overall. Great campaign mode, the storyline has been well thought through and some of the twists are just breathtaking and leave you stunned. Haven't had a chance to play on-line but quick look at zombies was definitely good. Only downside is some rather weird shooting from time to time.





The only good thing about the game is the Zombies mode. Single player was not my cup of tea and the Multiplayer is still glitchy!





good story but quite short, good for short rental if you do not have xbox live!!





Great game for single Or Multiplayer





Worth a rent I suppose...I'm not a COD fan really, mainly cause I'm poo at it :)





Quite good game, but Modern Warfare 2 much better. The same graphic too, so it is better to chose MW2. Thank You!





Outstanding graphics. Sufficiently varied gameplay - if over the top action. Very gorey! Recommended to FPS fans





great game





As good as ever and a good story in campaign mode