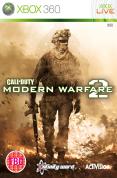 Rent Call Of Duty Modern Warfare 2 on XBOX360





RENT IT
Released: 10 Nov 2009
Genre: Shooter

Delivering an epic campaign, Modern Warfare 2 on Xbox 360 will see players once again wielding the latest firepower in both singleplayer and multiplayer modes set in the mayhem of Modern Warfare. The call of duty needs answering once again, as the blockbusting first person shooter series returns to the modern day. A direct sequel to Call of Duty 4: Modern Warfare, you now play new character Sgt Gary "Roach" Sanderson. Your commander is "Soap" from the first game as you join a multinational anti-terrorist squad out to stop Russian ultra nationalists. Watch your squad grow from inexperienced rookies to veteran warriors A snowmobile race is just one of the new vehicle sections Modern Warfare 2 is a direct sequel to Call of Duty 4 You'll journey all around the world in the fight against terrorism Many of the details on the game are still sketchy but it promises to feature an even more varied series of locales than the ever before, including a snowbound enemy camp that starts with a daredevil mountain climb across the ice before a stealthy infiltration goes awry and you have to run for your life by commandeering a snowmobile. But that's just the single player mode - the multiplayer is expected to be even more ground-breaking than before, with new co-op options and even more rewards and perks for competitive play.
Leave a review


Had this game for about a year, only returning it because the new COD is coming out!!

Call of Duty Modern Warfare 2 is the latest in a very successful series of first person shooters. I will assume that you know the call of duty game and move straight onto my thoughts of this game. Graphically Call of Duty has always been really advanced with graphics both in …
See full review


nothing more needs to be said about this game... one thing i will say is thank god i didnt buy it as i dont play online much and i think this is too short to be considered a good offline game.