Call Of Juarez Bound In Blood PS3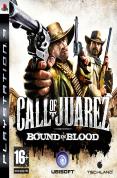 Call of Juarez: Bound in Blood is the prequel to the critically acclaimed Wild West action shooter Call of Juarez. As the McCall brothers, players enter a doomed quest for the legendary Gold of Juarez leading them from a ravaged Georgia during the Civil War to the Aztec ruins of Mexico. They make their lawless trail into the wildest West ever depicted, using their gun slinging skills and killing all of those that stand before them. But when brothers face Lust, their bound of blood feels thinner than ever...
Rent Call Of Juarez Bound In Blood on PS3

Buy ex-rental and earn 18 points
Reviews





not bad gameplay, although the one to one duals can be a pain. Overall a game worth playing.





good game. great story, good gameplay.





This sequel considerably improves on the first call of juarez game which was released very early in the current console generation. It looks good with a rustic filter effect and nice, varied locations. Many of the same problems are still there however, repetitive gameplay, poor controls and impossibly accurate enemys. With very few wild west style games available it is the best of them and is worth a play.





A lot of flaws and poor design, but it just about pulls through with enjoyable shooting and a nice story.





the story mode is good but its the online that really makes this game the legends mode is kinda like bad company