Crackdown XBOX360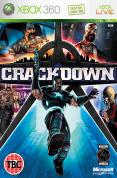 Crackdown pushes the action-driving hybrid genre into the next generation with the first ever truly 3-D playground. Gamers will enforce justice by any means necessary in Pacific City, a crime-ridden urban center built to encourage the exploration of the full width, depth and height of the city. Coupled with highly innovative co-op gameplay - a genre first - and an interactive world where nearly anything can be used as a weapon, gamers will be able to create a volatile cocktail of judicial oppression as they clean up the streets.
Rent Crackdown on XBOX360

Buy ex-rental and earn 18 points
Reviews





Good game, but much better on Co Op with a friend :).





Excellent graphics. The gameplay can become repetative but it is still alot of fun.





Extremely fun and great graphics. Vehicles are awesome. Abit reptative and bosses are easy and gets boring after killing every boss. I love jumping around and 4 stars in everything is pretty good. Good but not great.





dissapointing game.was really looking forward to playing it coz i saw the screenshots and the game looked amazing.nothing new but graphics r excellent





Grrrrrrrreat fun! Add on packs give it a little bit more longeivity.





Quality game, most fun jumping around the city!





Very Grand Theft Auto-esque. The best part of this game is the levelling up of your character and leaping from building to building whilst throwing cars! Good cartoony graphics if thats your thing and natural progression of character prevents you from putting your pad down! Killing bosses can get a bit samey :/





One of the top games that the 360 has to offer. Gameplay can become limited once the missions are completed; however I found plenty to do unlocking achievements.





Excellent game, only drawback is how limited the gameplay is once you have done all the missions.





Good Game, I found this game very fun and playing online co-op even better. Missions are a bit to easy and theres not much to do in the long run.