Dead Space 2 XBOX360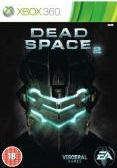 Isaac Clarke returns for another heart-pounding adventure, taking the fight to the Necromorphs in this thrilling action-horror experience. New tools to gruesomely slice and dismember the Necromorphs complement Isaac's signature plasma cutter, empowering him as he meets new characters, explores epic Zero-G environments, and fights against a relentless Necromorph onslaught. Survival isn't the only thing on Isaac's mind in Dead Space 2 - this time, he calls the shots!
Rent Dead Space 2 on XBOX360


Details:
Released: 28-01-2011
Rating Info: 18
Average Rating:







"As-New" Game

Buy ex-rental and earn 18 points
Reviews





awesome game, intense horror action. Love it





Really enjoyed this game. Last few games I have played have been large map games. This was more of a cross between call of duty and gears of war. Good range of weapons , some original ideas , good story running along through the games. defo worth renting.





Very good game, enjoyed the gameplay once id got use to the over the sholder view. Good mix of shooting, puzzles and storyline. Big game on two disks.





Outstanding game, great atmosphere, fantastic weapons and single player campaign was just the right length for a rental (took me 8-9 hrs)





My game of the year so far. Amazing set pieces!





Amazing in every way, story telling, graphics, sound and pacing...9/10...loses one point because doesn't have the impact of the first game its much the same still unmissable gaming roll on dead space 3...





A game that sizes care and quality in its design. Highly recommended





Excellent game. Very jumpy!





Excellent game, not overly creepy like i expected but there are some unsettling bits.





Very enjoyable game. Got stuck on one section, but this is a quality, well paced game