Dead Space 2 XBOX360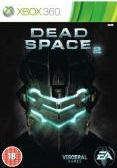 Isaac Clarke returns for another heart-pounding adventure, taking the fight to the Necromorphs in this thrilling action-horror experience. New tools to gruesomely slice and dismember the Necromorphs complement Isaac's signature plasma cutter, empowering him as he meets new characters, explores epic Zero-G environments, and fights against a relentless Necromorph onslaught. Survival isn't the only thing on Isaac's mind in Dead Space 2 - this time, he calls the shots!
Rent Dead Space 2 on XBOX360

Buy ex-rental and earn 12 points
Reviews





awesome game, intense horror action. Love it





Really enjoyed this game. Last few games I have played have been large map games. This was more of a cross between call of duty and gears of war. Good range of weapons , some original ideas , good story running along through the games. defo worth renting.





Outstanding game, great atmosphere, fantastic weapons and single player campaign was just the right length for a rental (took me 8-9 hrs)





A game that sizes care and quality in its design. Highly recommended





Very enjoyable game. Got stuck on one section, but this is a quality, well paced game





This game rocks, best game I've played in a while. It makes you jump but its not too creapy.





One of the best games I've played for a long time. Great graphics, good story and also quite scary. An absolute must play.





Amazing graphics. Very smooth and quick loads. Plenty of scares and extra features the more you play. And tge online experience makes it even better





very nice game, nothing very much speacial but graphics are pretty good





Excellent game, if you liked the first one you'll enjoy this one just as much.