Dynasty Warriors 7 Empires PS3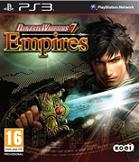 Change your destiny. Make history your own...
Taking the focus away from the historical figures that roamed the battlefields of the Three Kingdoms of China, 'Empires' emphasizes on a different kind of hero: the player!
Combining thrilling battlefield action with strategic gameplay, Empires gives each payer the opportunity to influence the way history unfolds.
Gain fame in battle and become a 'Ruler'. Use strategy to seize power and invade neighboring territories as a 'Strategist'. Become a mercenary and sell your services as a 'Free Officer'.
Dynasty Warriors 7 Empires offers a true personalized gaming experience.
Rent Dynasty Warriors 7 Empires on PS3

Buy ex-rental and earn 12 points
Reviews





Confusing as hell but different enough to be worth playing