Eledees Nintendo WII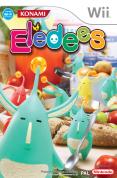 It's a revolutionary game of hide and seek as players search high and low for Elebits, mischievous little creatures that are the source of the world's power. Use the unique functionality of the innovative Wii controller to push, pull, lift and throw anything in the environment as you attempt to track down these playful little creatures. As they capture Elebits, players will be able to further interact with the environment, using them to provide power to different implements that will help them in their search.
Rent Eledees on Nintendo WII

Buy ex-rental and earn 15 points
Reviews





a very good original game





Oh my god! It's like a Wii version of the old kids TV schow "Fun House".. Me & my girlfriend had a good laugh with this & my son enjoys it! Definately going to get this!!!! Highly recommended for people who wish they can trash a room - without the effort of tidying up! LOL!





My first opinion of this games was - what the hell is happening here? A simple concept of blast the blobs and rip the room appart, but interestingly works well! My wife loves this and I actualy went and bought this title for her in the end! A unique title and worth the rent from Boomerang!