EyePet (Game Only) PS3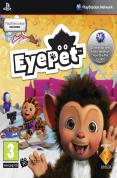 *** Game only - PlayStation Eye Camera not included ***
Say hello to the newest member of your family: the mischievous, magical EyePet! Every EyePet is a loveable bundle of furry fun brought to life by PS3. Thanks to the PlayStation Eye Camera and the 'Magic Card', you can feed your EyePet, stroke him, style him with new looks from the Pet Centre and even sketch amazing toys that spring to life on-screen for him to play with. Every day will bring fresh ideas and new toys to keep your new friend entertained.
Rent EyePet (Game Only) on PS3

Buy ex-rental and earn 18 points
Reviews





Great fun for kids. Just watch their faces light up when they see themselves interacting with eyepet on screen. The challenges themselves are quite simple, where you perform tasks such as taking photos of eyepet or feeding him. Although an adult's help would be useful for some of the tasks such as drawing a car and getting the camera to recognize your picture.