F1 Race Stars XBOX360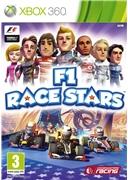 F1 Race Stars will deliver formula fun on every straight, hairpin, jump and loop-the-loop with super-fast racing and a range of power-ups for players to collect and deploy as they sprint for the chequered flag ahead of their rivals.
F1 Race Stars will take players on a world tour of iconic Formula One locations, including Monaco, Silverstone and the new Circuit of Americas in Austin, Texas, recreated as fantastical racing circuits built for speed and wheel-to-wheel competition. Friends and family can share the fun too - F1 Race Stars will deliver 4-player split-screen racing and 12-player competition alongside an extensive career mode featuring a number of Championships.
Rent F1 Race Stars on XBOX360

Buy ex-rental and earn 12 points
Reviews





Very good game, can be challenging at times but not impossible. Reasonable achievements that can be obtained without too much hardship. All round fun to play, the only downside is the extra tracks should be free as there are only 11 tracks on the disc without DLC.