Family Guy Back To The Multiverse XBOX360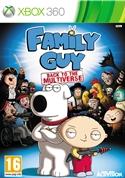 Family Guy: Back to the Multiverse utilises the talented voice cast and writers, authentic humor and subversive spirit of the Family Guy series, giving fans a whole new way to interact with their favorite show. The game features a completely original story that sends the guys back through the Multiverse on a mission to stop Bertram. The game also featuers extra challenge levels, multiplayer maps, costumes and unlockable characters as well as a co-op mode.
Rent Family Guy Back To The Multiverse on XBOX360

Buy ex-rental and earn 12 points
Reviews





I have to say with this type of game I am always skeptical but Famliy Guy Back To The Multiverse was a rather enjoyable romp! The humour is spot on, not only in dialog but also in background characters (Peter, Louis and others pop up) and set pieces. The shooting is fare, when targeting you normally hit your mark and some of the guns are quite funky. Recommended to any Famliy Guy fan.





Really good game to play if a Family guy Fan!!!





Really fun game, enjoyed it. Worth a rent and easy achievement points :)