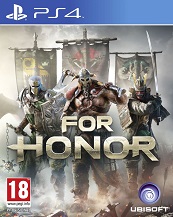 Rent For Honor on PS4





RENT IT
Released: 14 Feb 2017
Genre: Action / Adventure

Online Connection Required. Carve a path of destruction through the battlefield in For Honor, a brand-new game developed by the renowned Ubisoft Montreal studio. Enter the chaos of a raging war as a bold knight, brutal viking, or mysterious samurai, three of the greatest legendary warriors. For Honor is a fast-paced, competitive experience mixing skill, strategy, combat and team play.
Leave a review


Great game but i feel you need alot of time to get really good at it

Great campaign but very short I really enjoyed it and the cuts venues were fantastic

Great game with good graphics and a fun multiplayer mode! Definitely worth renting.