G Force (3D Glasses) G-Force XBOX360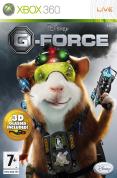 *** 3D Glasses not included***
Based on the Jerry Bruckheimer Films summer 2009 blockbuster, G-Force is an exciting action-platformer game that puts players in the role of G-Force's fearless team leader Darwin and his housefly sidekick Mooch as they bring their unique high-tech gadgets, stealth mastery, and pint-sized justice to prevent an evil billionaire from taking over the world.

G-Force is a fast-paced action-platform game featuring a unique elite team of specially trained guinea pigs that use high-tech gadgets and specialised talents to complete a dangerous government mission. G-Force puts players in control of both Darwin, the guinea pig leader of the covert intelligence G-Force squad, and housefly surveillance sidekick, Mooch, as they team up with the other G-Force agents and use their gadgets, stealth mastery and pint-sized teamwork as mankind's only hope to complete a dangerous high-level government mission. G-Force uses innovative gameplay featuring a unique sense of scale, puzzle solving that requires players to manipulate environments and enemies, including diabolical waffle irons among evil household appliances.
Rent G Force (3D Glasses) G-Force on XBOX360

Buy ex-rental and earn 18 points
Reviews





Shocking! I thought this game was excellent, a game based on a movie which doesn't actually suck!





great game for the kids