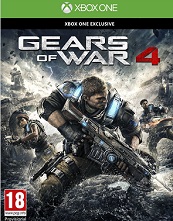 Rent Gears of War 4 on XBOXONE





RENT IT
Released: 11 Oct 2016
Genre: Shooter

A new saga begins for one of the most acclaimed video game franchises in history. After narrowly escaping an attack on their village, JD Fenix and his friends, Kait and Del, must rescue the ones they love and discover the source of a monstrous new enemy.
Leave a review


I liked this game did the campaign twice and enjoyed it, some funny bits in it as well. Very good and worth playing. Did not play multiplayer or any of the other bits of the game but very good

Solid fun action. A must play

Classic gears combat and wise cracks.