God Of War Ghost Of Sparta PSP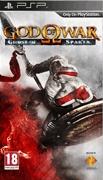 Serving as a prequel, Ghost Of Sparta picks up after God Of War concludes, telling the story of Kratos' ascension to power as the God Of War. In his quest to rid the nightmares that haunt him, Kratos must face his dark past to prove his worthiness to the Gods - a journey that will reveal the origins of lost worlds, and finally answer long-awaited questions about Kratos' tattoo, scar, and family.

Armed with the deadly chained Blades of Chaos, he will once again have to overcome armies of mythological monsters, legions of undead soldiers, and amazingly dangerous and brutal landscapes throughout his merciless quest.
Rent God Of War Ghost Of Sparta on PSP

Buy ex-rental and earn 15 points
Reviews





Awesome game, any fan of previous God of War titles will enjoy this. Great story, outstanding graphics. My only gripe was the sporadically ineffective implementation of the (very well composed) music score but this didn't detract from the overall experience of the game and I thoroughly enjoyed it. While this goes without saying, God of War: Ghost of Sparta is has an 18 rating for good reason. There's plenty of gory mutilation of enemies and a rather long (and somewhat ridiculous) game-play sequence of a sexual nature. Basically, it's not for kids. Still, one of the best adult PSP titles around, deserves its 5 stars.





Great game. Excellent controls, beautiful graphics, good story. Done game in 3 days!!