God Of War III (God Of War 3) PS3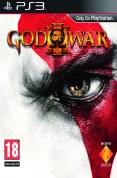 **Purchase Only - Pre-order your copy before 15th March 2010 and you could win your money back! Winner selected at random on release date**
The third instalment from the multi-million selling God Of War franchise, God Of War III is coming to PlayStation 3, as the full wrath of Kratos is unleashed against the gods who have betrayed him and the entire ancient Greek world.
Set in the realm of brutal Greek mythology, God of War III is a single-player game that allows players to take on the climatic role of the ex-Spartan warrior, Kratos, as he scales through the intimidating heights of Mt. Olympus and the dark depths of Hell to seek revenge on those who have betrayed him. Armed with double-chained blades, and an array of new weapons and magic for this iteration of the trilogy, Kratos must take on mythology's darkest creatures while solving intricate puzzles throughout his merciless quest to destroy Olympus.
Rent God Of War III (God Of War 3) on PS3

Reviews





excellent game story is epic gameplay really fun and cinematic shots are brill





A really good game best game ive played on ps3 so far!! Would strongly reccomend renting wouldnt buy it





I has been a long wait for me to play God of War 3 and when it finally arrived I was very excite!!! It plays like a dream, the perfect yet subtle blend of lateral thinking with extreme violence and fans of the series should love it. My only drawback was it was faaar too short. I am not an avid gamer yet i clocked it within a few days. An excellent play through none the less. Bring on number 4!!!





AMAZING!! kratos is the master! best hack and slash game ever but it is very deep





Kratos is back! Only this time you get to pull someone's head off in a QTE! And there is ANOTHER sex mini-game! Every thirteen year old boy's fantasy comes true in almost exactly the same way it did in God of War 1 & 2 (which if you haven't played are much better and available now in awesome HD). Easier than 1 & 2 and somehow after ten hours of blood, guts, button mashing and gratuitous nudity I no longer find the contentment I am seeking. Perhaps it really is time for Cooking Mama.





Excellent game, excellent graphics, brilliant combat system and weapon upgrade system. Overall, superb game!





Had to sit through 10 minutes of opening credits and narrative before I could do anything. Pants game.





Brilliant graphics, amazing gameplay and can not fault this game at all 10/10. Would reccomend to anyone it the top game people thought it would be. Play play play people.....





button basher, thats all you will be doing, graphics amazing, but not enough to do in the game, its good for just killing a few minutes until you get bored





very good game. amazing graphics. single player last about 10 hours. fun and tough boss battles. the fight with the titan is abosoulutely brill. no multiplayer altough challenge mode and arena. definately a must have! 9/10