Grand Theft Auto Episodes From Liberty City (GTA) PS3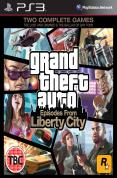 Grand Theft Auto: Episodes From Liberty City is the brand-new Grand Theft Auto, containing two complete games - The Ballad Of Gay Tony and The Lost And Damned - together in one box!

The Ballad Of Gay Tony
The Ballad Of Gay Tony injects Liberty City with an overdose of guns, glitz, and grime. As Luis Lopez, part-time hoodlum and full-time assistant to legendary nightclub impresario Tony Prince (aka "Gay Tony"), players will struggle with the competing loyalties of family and friends, and with the uncertainty about who is real and who is fake in a world in which everyone has a price.

The Lost And Damned
In The Lost And Damned, experience Liberty City as Johnny, a veteran member of The Lost, a notorious biker gang. Johnny has been creating business opportunities for The Lost in Liberty City but his first loyalty must be to the patch he wears on his back and to Billy Grey, the club's President. However, when Billy returns from rehab hell-bent on bloodshed and debauchery, Johnny finds himself in the middle of a vicious turf war with rival gangs for control of a city torn apart by violence and corruption. Can the brotherhood survive?
Rent Grand Theft Auto Episodes From Liberty City (GTA) on PS3

Buy ex-rental and earn 18 points
Reviews





Starting to show its age a bit now, but a joy to once again delve into Liberty City. The Ballad of Gay TOny is vastly superior to the bikers.





Good fun but storylines could have been longer.





Good





nice little sub gta game to get you by





very good game