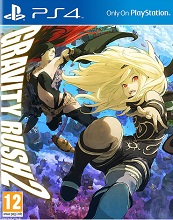 Rent Gravity Rush 2 on PS4





RENT IT
Released: 20 Jan 2017
Genre: Action / Adventure

Experience the thrilling conclusion to Kat's mind-bending adventures as she chases the mystery of her origin across a huge new open world. Wield an arsenal of hard-hitting gravity-based attacks in three different gravity styles against powerful new enemies, unleash devastating tag-team attacks with Raven by your side, and ward off a new danger that threatens the world and the fabric of the universe itself. In a new story set just after the conclusion of the first game, Kat returns with her gravity-shifting partner Raven and the police officer Syd to investigate strange gravitational waves appearing over Hekseville. The next adventure for the gravity queen begins when Kat is swallowed by a gravity storm of unprecedented scale and taken to a remote mining village. Separated from Dusty, the source of her gravity powers, Kat is forced to mine ore for the village to earn her keep along with Syd. However, they soon face the dangerous Scarabs lurking near the storms – a new breed of Nevi that threatens Kat and the village...
Leave a review


Good game. Story is confusing. Gravity Rush 1 is better

Beautiful looking game with a story to lose yourself in.

Great game, if you like the first this is a must have!