Heroes Over Europe XBOX360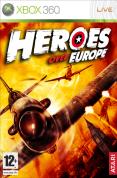 The sequel to the mighty World War II flight combat game Heroes of the Pacific, Heroes over Europe takes aspiring combat pilots into the bullet-ridden heart of major World War II European air battles in glorious dogfight-friendly high-definition. Heroes over Europe follows the Allied campaign from the attacks on London to the destruction of Berlin, with players under orders to strap themselves into the authentically rendered cockpits of the campaign's iconic aircraft. Their mission: to survive the most ferocious dogfights ever seen in a flight combat game.
Rent Heroes Over Europe on XBOX360

Buy ex-rental and earn 18 points
Reviews





Not a bad game at all. Pretty hi-octane stuff and lets you get straight into the action. Does what it does well. Only downside was the XBox live multiplayer, took ages to find any matches to play in and then the dogfight mode has a pretty annoying exploit other players would depend on (no penalty if you crash, hence if you're losing in a fight just slam into the ground and respawn with full health) Would have probably opted to keep it had the option been available!