History Legends Of War PS3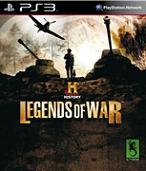 Assume the role of one of the most successful and charismatic generals of World War II, General George S. Patton, commanding the Third US Army. Take control during the late steps of the conflict, from the Normandy invasion, to the break of the siege of Bastogne in the last days of 1944.
Lead your troops from the bloodied beaches to the war-torn streets of Berlin, reclaiming occupied land before the Soviet troops can. Embark on 21 missions, over 4 different operations, across 44 battlefield maps with the use of 36 types of unit.
Rent History Legends Of War on PS3

Buy ex-rental and earn 12 points