Hitman Absolution XBOX360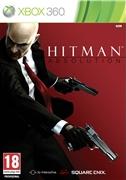 Hitman: Absolution follows Agent 47, a cold blooded assassin, who takes on his most dangerous contract to date. Betrayed by those he trusted and hunted by the police, he finds himself at the centre of a dark conspiracy and must embark on a personal journey through a corrupt and twisted world, in his search for the truth.
Showcasing IO Interactive's new proprietary Glacier 2 technology, the game has been built from the ground up, boasting a cinematic story, distinctive art direction and highly original game design, Hitman: Absolution combines much loved classic gameplay with completely new gameplay features for the Hitman franchise.
Rent Hitman Absolution on XBOX360


Details:
Released: 20-11-2012
Rating Info: 18
Average Rating:







"As-New" Game

Reviews





This game is glitched this is ment to have be fixed but still it carrys on that all the game saves are corrupted when you turn xbox off after starting over twice I give up with it am glad I only rented it and not bought it, other than that nice game to play all round...B+





Fanstastic!