Infamous PS3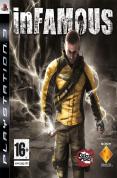 Cole, an everyday guy, sets out to deliver a package in the downtown area of Empire City. Present at the scene of a devastating explosion that rocks Empire City, he barely manages to survive the event. As riots erupt in the aftermath, the city collapses into chaos and becomes overrun by powerful criminals. The city is quarantined from the mainland, and television broadcasts link Cole to the scene of the crime. Cole is now a wanted man, but he's also wielding extraordinary powers as a result of the explosion. As an evolving mystery unfolds, Cole must learn how to grasp his newfound super powers as he searches for the real culprits behind the blast in an attempt to rescue Empire City from complete anarchy.
Rent Infamous on PS3

Buy ex-rental and earn 18 points
Reviews





This game is really out dated, but still a enjoyable game to play B+





Great game with plenty to do, either as a super hero or villain





After playing the demo I really wasn't sold on this game, but I am glad I rented it anyway. The story is solid and your decisions impact how things play out - running and climbing your way throughout the city is brilliant. Boss battles are decent, as are the animated cutscenes and the city atmosphere. The game is incredibly frustrating in parts but if you push through that you will find a great game here. Well worth renting.





Absolutely amazing game that should be rented. It was fun addictive with a great open world to play great missions and great powers to use. the story was gripping and its a new and welcomed change to gaming





this is a brilliant game.the open world environment gives you the chance to do anything, anywhere at any time. there are two game modes, good and evil, which greatly expands the game. you unlock andupgrade abilities throughout the game. as good as this game it, it does have some flaws. it gets a little repetative. also, some of the moves you are asked to perform are near impossible to pull off, and going for the 100% award will drive you crazy. overall, a brilliant game and well worth a rent :)





excellent game great graphics and brilliant gameplay you get to pick to be either good or evil i did the game in both good game for trophies only downside was no online gameplay... all in all 10 out of 10





Part Spiderman, Part Darth Vader, Part Nico Belic - Infamous creates a great game from a mish-mash of influences and then throws in a touch of Crackdown's OCD pleasing collectables and side-missions. Admittedly the city never feels alive like a GTA game does and the moral choices are pretty shallow but the sheer number of awesome powers and the fluidity of Cole's movement make Infamous worth a few hundred hours of your time.





Highly recommend this game, if you played crackdown on xbox then your love this game, great ending and cant wait for next part!





great game lots of missions and action took a while to beat only downside is if your a trophy hog u either have to manually save or complete the game on good and bad,i went for bad and didnt get round to doin good,still a great game tho and better than the similar title prototype





I really enjoyed this game, up until the point where I went for the Platinum trophy. Playing through both Good and Evil versions of Cole is essentially fun, as it's meant to be. But when you're forced to go over the entire city looking for Blast Shards, it quickly overrides any fun factor the game once had. The game will please anyone looking to play through once or twice on both variations, but may annoy those going for the Platinum.