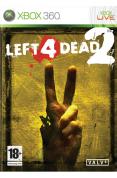 Rent Left 4 Dead 2 (Left For Dead 2) on XBOX360





RENT IT
Released: 20 Nov 2009
Genre: Action / Adventure

Left 4 Dead 2 is the sequel to the best-selling and critically-acclaimed co-operative multiplayer smash from Valve. The title adds melee combat to the award-winning L4D style of play, with items such as a chainsaw, frying pan, axe, baseball bat, and more. The setting is at roughly the same time as the original - just after the outbreak that turned most of the population into various zombie mutants. Players assume the role of 4 new "Survivors," each with their own personality and new dialog. The game leads these Survivors through the south-eastern region of the US - from Savannah, Georgia thru the bayou country, and climaxing in New Orleans' French Quarter. Left 4 Dead 2 offers a much larger game than the original with more co-operative campaigns, more Versus campaigns, maps for Survival Mode at launch, and more...
Leave a review


Addictive! Hooked on survival mode..

I can see why people enjoyed this so much. I was not one of them. It's ok, played with a friend, its a bit of a laugh, but it had little substance. Back to COD for multiplayer awesome.

Bit repetitive.