LEGO Harry Potter Years 1-4 PS3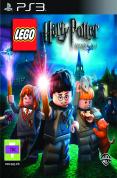 LEGO Harry Potter: Years 1-4 will give gamers the chance to experience the magic and adventure of Harry Potter in a new and uniquely LEGO way. Playing as Harry Potter, Ron Weasley and Hermione Granger, as well as other favourite characters, gamers will have the opportunity to attend lessons, cast spells, mix potions, fly on broomsticks and complete tasks to earn house points. Throughout the game, players will also have the freedom to explore iconic settings from the wizarding world including Hogwarts Castle, Diagon Alley, the Forbidden Forest and the village of Hogsmeade!
Rent LEGO Harry Potter Years 1-4 on PS3

Buy ex-rental and earn 12 points
Reviews





Really addicting game. Not just for younger gamers but for all ages. Attention detail is incredible. Very addictive!





This is a great Lego game, probably the best yet. It has a similar feel to the Harry Potter games released for each film but there is more to do in this one. The inclusion of the official soundtrack is brilliant. There are 24 levels, 6 per year, each will need to be played more than once if you intend to collect everything. You can also explore Hogwarts at your leisure. Diagon Alley acts as the game's central hub. In all it will take about a week of casual play to get 100%. The only drawback is that there are some glitches, mostly not bad ones, but I did have to restart my game from scratch once when I got stuck in a room. If you keep a back-up of your save file this will go a long way to beating the glitch.





Captures the world well, includes the official soundtrack too. Lots of fun. Replaying required in order to collect everything.