Lego Indiana Jones The Original Adventures XBOX360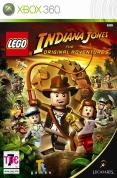 LEGO Indiana Jones: The Original Adventures takes the fun and creative construction of LEGO and combines it with the wits, daring and non-stop action from the original cinematic adventures that enthralled audiences everywhere. With a unique tongue-in-cheek take on the original adventures, LEGO Indiana Jones follows Dr. Jones escapades through the jungles of South America to the mountaintops of India. Fans can build, battle and brawl their way through their favourite cinematic moments, from Indy's entanglements with snakes to his dashing boulder run.
Of course, pop culture's most iconic archeologist will whip through all the classic moments with the help of a host of supporting characters including Marion Ravenwood and Short Round. Players can also mix and match the body parts of more than 60 playable characters to create new heroes just as they could in the best-selling LEGO Star Wars games.
Rent Lego Indiana Jones The Original Adventures on XBOX360

Buy ex-rental and earn 18 points
Reviews





My kids love the game





Grat game, my boys and I loved it!!





Great fun game....love lego games. Great service from boomerang too :-)





Cool little game and a franchise I'll be looking at a lot more closley in future





Overall a good game, lots of fun and interesting with it linking to the original 3 indiana jones movies. The gameplay is very detailed in that there are lots of things to do, hidden objects and challenges etc. However, after a while it all gets a bit tedious and you just want to finish the game. There is little else to do once it is completed but thankfully completing it doesnt take too long. Around 18 missions, each of which can be completed in around 20 minutes. Another problem is that the game can only be saved at the end of missions so if you get stuck and have to turn of your computer, you will have lost however far you got in that level. One final thing, you can take this as a good or bad thing, if you die, which is quite easy, you just lose a few points and re-appear, you don't go back to the start of the level or a previous checkpoint. Overall good game but not quite interesting enough for me and more suited to young children or people who will happily spend hours trying to find every hidden object to get all 1000 gamerscore.





I have some mixed feelings about this game, I loved the lego starwars games so I had high hopes for this one, I wasn't let down by it in any way shape or form. Its just a little short for seasoned lego players and there isn't much to bring you back once its been completed. Overall a great game to rent, it will have you gripped for a couple of days but after that it will just start gathering dust.





Good fun, but short lived





fun,witty with great varied smart gameplay and great graphics. over all an excellent game.





If you like Lego Star Wars then you will love this as I think its better Nice fun game, gets very annoying playing it two player co-op as the camera angles and sharing one screen is a big problem.





Brilliant Game ... Load's to do and Funny aswell, Highly recommended ;) ,