Mafia II (Mafia 2) XBOX360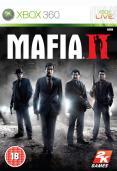 The sequel to the successful Mafia, Mafia II immerses players in the mob underworld of a fictitious late 1940s-early 1950s scenario. Players will quickly become engaged in the games cinematic movie experience with strong, believable characters in a living, breathing city. By fusing high octane gunplay with white knuckle driving and an engaging narrative, Mafia II looks to be the industrys most compelling Mafia title to date.
Born the son of a poor immigrant, Vito is a beaten down Italian American who is trying to secure his piece of the American Dream. Looking to escape the life of poverty that consumed his childhood, Vito is soon swayed by the lure of power and wealth that a life of Organized Crime can bring.

A petty criminal his whole life, Vito, along with his childhood friend, Joe, will descend into the world of Organized Crime. Together, they will work to prove themselves to the Mob as they try to make their names on the streets of a cold and unforgiving city.

Rent Mafia II (Mafia 2) on XBOX360

Buy ex-rental and earn 18 points
Reviews





Despite what many press reviews have said, this is definitely a fun game. (mostly) Solid gameplay mechanics, a decent (if short) story and an excellent vintage soundtrack of over 100 golden oldies make this game well worth renting instead of purchasing.





I love it





I recieved Mafia II not expecting much, after not giving much praise for GTA IV i was slightly worried this game was going to be a failure. However i was proved wrong. Mafia II pits the player as Vito Scaletta a dischared soldier fresh back from WWII. The game takes place over 10 years in Empire Bay, a mix of New York, Boston and Chicago. The games scenery is good and the attention to 1950's lifestyle and culture is superb. The story is very engaging and interesting till the end. the game utilises a similar cover system to 3rd person action games. Although there is no blind fire, cover is destructible and the gun play is great. a small arsenal of pistols, shotguns, rifles, grenades and machine uns are at your disposal. I enjoyed the gameplay and found no problems. Driving is also very well done, the 36 different cars handle great. 2k games really went all the way with this fantastic game. Engaging story, solid gameplay mechanics and a beautiful music score are sure to draw in any fans of the GTA series. rent it now!





Great fun, the story really is really impressive and action is fantastic, at times breath-taking. I'm a massive fan of gangsta films, Goodfellas in particular, so this is perfect for me. One criticism is that they could have done more with the open world, like add some side missions in, but it doesn't detract from it that much





A great story line which provides a thrilling experience together with good cut scenes . The is a maijar bug in the game (when you are in a car and drive at 100 km/h + the can falls through the ground which given you 3 acheavements :get 125 km/h , keep 4 wheels off the ground for 20 sec , keep the car speed over 30+ for 5 minutes ). It is a solid experience epart from that bug and is worth a rental .





Not a bad game. Main Storyline is very good, and the characters are engaging. The combat mechanics work fairly well for the most part, although the checkpoint system can frustrate, especially on Hard difficulty. Way too much pointless driving though, with no reason to explore the realistic world that the game creates. Do not download the DLC on this either, both are dire.





severely underrated game. Be aware that this is a linear game with sandbox features. As opposed to games like GTA 4, I found myself completely immersed in the storyline and actually caring about the characters.





Brilliant story amazing graphics, just let down by the length of the game and the emptyish open world....cover shooting mechanics and driving is spot on though..





Never played the first, great gameplay, story and very fun. Not really one you can play more than once as the storyline is main thing





Very very good game, excellent story, great voice acting, smooth controls (Cover system was a bit tedious though). Would deffo reccomend this game!