Mario And Luigi Bowsers Inside Story Nintendo DS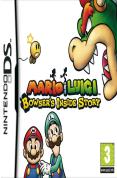 In his evil plot to take over the Mushroom Kingdom, Fawful tricks Bowser into eating a magic mushroom. The mushroom causes Bowser to begin inhaling everything around him, including Mario, Luigi and Princess Peach! Do the Mario Bros. have the guts to rescue Peach and escape?
Rent Mario And Luigi Bowsers Inside Story on Nintendo DS

Buy ex-rental and earn 12 points
Reviews





A suitably unique departure from the standard platforming towards more RPG oriented gameplay. The interactive special attack system keeps battles entertaining. While the story could have been a bit more involved this is overall a great game.