Mario And Luigi Bowsers Inside Story Nintendo DS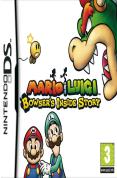 In his evil plot to take over the Mushroom Kingdom, Fawful tricks Bowser into eating a magic mushroom. The mushroom causes Bowser to begin inhaling everything around him, including Mario, Luigi and Princess Peach! Do the Mario Bros. have the guts to rescue Peach and escape?
Rent Mario And Luigi Bowsers Inside Story on Nintendo DS

Buy ex-rental and earn 15 points
Reviews





Great great great :)





Mario and Luigi Bowsers Inside Story is a very good game. Its funny. And you get to control both Mario and Luigi and Bowser as well. Controls are really good (apart from the gaint Bowser fighting bit). and it really good apart from the rubbish mini games. Control are really simple for both the bros and Bowser and the fights are always fun against the monsters. I would say that this is one of the most interactive rpg i have ever seen. Fun from start to finish (which i couldn't finish alas) And really good lifespan of 20 hours plus which seems short for an rpg but you enjoy every minute a fantastic game.