Mario and Sonic Olympic Games Nintendo WII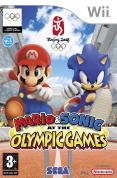 Mario and Sonic set aside their lifelong rivalry and appear together in the same game for the first time ever!

In Mario & Sonic at the Olympic Games, players will compete in events that take place in environments based on the official venues of the Beijing 2008 Olympic Games. Using a supporting cast of characters from the amazing worlds of both Mario and Sonic, gamers will be able to compete as or against a range of lovable personalities including Mario, Sonic, Luigi, Knuckles, Yoshi, Tails and more.

Innovative usage of the Wii and DS control systems to maneuver a favourite character will allow players to race the likes of Mario and Sonic down the 100m track, engage in exhilarating rallies in table tennis and churn water in a swimming heat, all while competing for the much sought after gold medal.
Rent Mario and Sonic Olympic Games on Nintendo WII

Buy ex-rental and earn 15 points
Reviews





good game, fun for the kids





It is very good and active,enjoyable and funny playing with a friend





Fun, but does get quite boring as most of the sports use the same technique on the Wii and Nunchuks. Would recommend for renting but wouldn't go out and buy.





mario + sonic + olympics = very great game





A fun game, even better with friends and family. The controls dont have much variety, ur mainly just shaking your hands as fast as you can on most events. Its quite hard to begin with but u'll get used to the controls, however soon gets repetitive and then some of the challenges you get are almost impossible. Defo worth a rent for a weekend.





Fun game with great wii controls but probably better played as a multi-player as the single player option gets repetetive quite quickly.





Great game even if you're on your own definetly rent, Probably buy





Really fun and clever but soon gets repetitive. Definitely a must MUST rent. Great fun.





Really Good, Lots of differant events that will give you loads of Fun, Will go out and buy.