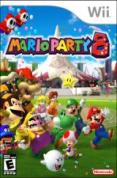 Rent Mario Party 8 on Nintendo WII





RENT IT
Released: 03 Aug 2007
Genre: Kids / Family

Mario Party 8 is the first Wii instalment of the popular Mario Party series. Like previous Mario Party titles, this is a fantastic party game with your favourite characters from the Mario universe, organised in the spirit of traditional board games but with the addition of several 'minigames' to spice up the challenge. Characters roll dice, move on a board and can perform certain interactions on specific situations or via items they collect. At the end of each turn players are involved in humorous simple mini games, that require reflexes, intuition and/or logic. Mario party 8 on the Wii goes back to the classic formula of four players at most; however Mario Party 8 on the Wii takes full advantage of the Wii remote to inject unique and energetic gameplay in to the Mario Party.
Leave a review


Was quite good fun, pretty much what you'd expect from a mario party game.

not bad not a complete rush and overall worth a rental

This is a great game, if you have 2 or 3 friends to play with. Single Player is not worth even trying, just plain boring. Great Party game though, plenty of fun with friends.