Mario Party DS Nintendo DS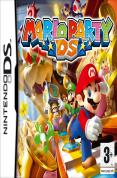 Get ready to party - Mario style! With Mario Party DS, you and your friends can have an impromptu minigame party anywhere, anytime. Using just one Game Card, up to four players can compete to become the star of another fun-filled Mario Party!

True to the franchise roots, Mario Party DS brings players together to roll through unique game boards, playing frantic and fun minigames along the way. Mario Party DS features five brand new boards, 70 fresh minigames and sweet 3D graphics. The Touch Screen and built-in microphone of the Nintendo DS open up new ways to play Mario's mini-games, from using the Touch Screen to drive a car to blowing out candles via the microphone and much more!

In addition to the multi-player party, Mario Party DS features a full single-player story mode that throws you into battle against Bowser and his minions. In this game, Mario and his friends have been tricked by Bowser and then miniaturised. You'll have to return everyone back to their natural state by beating Bowser's followers on each of the five boards and then crushing Bowser in a final duel. This is one party you definitely don't want to miss!
Rent Mario Party DS on Nintendo DS

Buy ex-rental and earn 12 points
Reviews





My son really enjoyed this game;as he loves all things Mario.He found the difficulty levels jumped quite alot though, once he got to level 9. I had a quick go on the mini games and I found them quite frustrating as they weren't that quick to complete. There is not much in the way of instructions. Maybe they're on the box.